Sustainable Water, Sanitation and Hygiene (sWASH III) Project
Partnership for change, Capacity building, sustainability, promotion of hygiene behaviour change, and provision of safely managed water services were the thematic areas that we focused on during the implementation of Sustainable Water, Sanitation and Hygiene project (sWASH) funded by Latter-day Saints Charities in September 2021. The Project covered the period from September 2021 to August 2022. Over 24,800 poor and marginalized people residing in 20 communities and institutions in Lower Manya Krobo Municipal Assembly, Yilo Krobo Municipal Assembly, and Upper Manya Krobo District Assembly were given better and more sustainable water, sanitation, and hygiene (WASH) services for the prevention and management of NTDs.
Partnership for Change
Effective partnership arrangements are central to achieving project ownership and successful delivery outcomes. During the project year, GrowthAid signed MoUs with all three participating MDAs (; Lower Manaya, Upper Manya and Yilo krobo Mumiciapal Districts Assemblies.). Enshrined in this was a joint project management team, a mechanism that allows real time project monitoring and technical backstopping.
Capacity building for sustainability
As part of our capacity building efforts for sustainability of our services, eight (8) gender-balanced Water, Sanitation (WATSAN) committees and twelve (12) Institutional Water Committees were formed, trained, and equipped with the skills and knowledge needed to mobilize funds, manage conflicts, keep records, and understand their roles and responsibilities in operation and maintenance.
Five (5) iron removal trainees were identified and trained on how to identify and correct faults within the iron removal plant's chambers. They were also trained on how to perform routine maintenance and spare part replacement. Ten (10) Area Mechanics were trained to disassemble and reassemble water facilities, to do routine maintenance and spare component replacement for both simple and mechanized water systems.
Promotion of Hygiene Behaviour Change
As part of GrowthAid Behaviour Change Communication process, we organized campaigns in schools and engaged with the communities to address sanitation and hygiene issues
Provision Of Safely Managed Sustainable Water Services
GrowthAid provided better and more sustainable water services to the communities and institutions for the prevention and management of NTDs. Water services provided includes simple boreholes, mechanized boreholes and Iron treatment plants.
SUCCESS STORIES

"Akurusu is finally free from drinking contaminated water"
My name is Joseph Ogbordjor, the opinion leader of Akrusu, the residents used to walk for half a mile to access water from the Volta Lake. Water from the lake is not treated and contains worms and other solid particles. But because there are no other safe sources of drinking water, the community had no option but to use it for drinking and other domestic purposes. Due to the use of contaminated water, diseases like river blindness and bilharzia were very common in the community. Since the provision of this water facility by GrowthAid with support from the Latter-Day Saints Charities. We will no more drink contaminated water and will be free from diseases. We want to extend our gratitude to GrowthAid and the donors for the gift of potable water.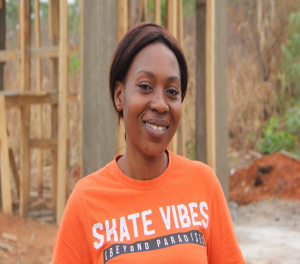 "Akohia CHIPS is now a fully functioning health facility."
My name is Dorcas Tetteh, a nurse in Akohia CHPS compound. This health facility is in a community that lacks potable water and that immensely affects the operation of the facility. In the rainy season we depend on a stream for our minor operations such as washing, sterilizing of equipment and a few but there is no solution to instances that require a large amount of water. Management of the facility attempted to get a storage tank from the Assembly to help store rainwater to be used in the dry season, but all efforts proved futile. Staff who stay in the facility resort to purchasing the 'yellow gallons' to store water for domestic use only. The lack of potable water affects quality healthcare delivery and reduces nurses' productivity. Valuable time is spent fetching water from the stream instead of attending to patients. The intervention of GrowthAid in providing a mechanized water facility not only for the CHPS but also for the community will not only save lives' but also improve healthcare delivery to the community and other communities who also benefit from the facility. We are forever grateful to GrowthAid and the Latter-day Saint Charities for the gift of an improved life. We ask God to bless and replenish the coffers of GrowthAid to continue to extend the good work and lifesaving opportunities to more under-served communities.
"Obawale health centre finally gets safe water"
My name is Priscila, a nurse at Obawale health centre. Obawale is a community of about 2,250 people with no access to potable water. The health centre depends on rainwater and buying water in the dry season. The staff spends their own money on the water where its source and quality sold to us is in serious doubt. This facility serves the Obawale community and about 10 adjoining communities and the lack of water makes its operation and maintenance a major problem. We made several attempts at the Assembly for a water facility, but all our efforts proved futile. Water remains the main catalyst to quality healthcare delivery and lack of water affects productivity and healthcare delivery. The intervention of GrowthAid in providing safe water at the premises of the facility will save staff from spending more money on water for domestic use, improve healthcare delivery, and improve productivity and a clean working environment. We are forever grateful to GrowthAid and the Latter-Day Saints Charities for the enormous support in improving the health status of residents and its neighbouring communities through safe water and improved hygiene.
"Our girls are finally free from the scarcity of scarcity of water"
I am Mrs. Agnes Aduahene-Chinibuah, the headmistress of Krobo Girls' senior high school. The school's population is over 2,700 and we sorely depend on Ghana water, which is irregular, coupled with the terrain of the school campus, which is on a hilly land making the frequent flow of water a problem. The scarcity of water affects students and academic work as well. Some students portray unacceptable behaviour all in the search for water. Some go to the extent of breaking into teachers' bungalows to steal water for baths and others even end up cutting laid down pipes all to get water for domestic use. Due to lack of water, there has been an increase in open defecation. When the washroom gets messy, there is no water to flush, and some students hide in the bushes to defecate. The intervention by GrowthAid with funding from Latter-Day Saints Charities in providing a safe water facility for the school is going to be a big relief to students and staff. There is going to be improved academic work and less pressure on the students to worry about scarcity of water, which will bring down cases of indiscipline drastically. This water project will go a long way to improve the hygiene condition in the school and help prevent certain diseases that would have resulted because of unhygienic conditions. We are forever grateful for the gift of safe water, and we ask God to bless GrowthAid and Latter-Day saints Charities.
"Now we will spend less time in fetching water and spend more time in learning."
My name is Lydia Maame Serwa Essah, the senior school prefect of Krobo girls' SHS. Previously, we depended solely on Ghana Water Company and because of the hilly nature of the school, the flow of water was not frequent and even when it flows the pressure was not much, this made most of the students spend more time in search of water rather than staying in the school room or even having to rest. The infrequent flow of water also worsened the hygiene situation of girls on campus. Girls in their special times of the month would miss classes anytime there is no water for them to take their bath. With the provision of this mechanized borehole, which is close to the dormitory by GrowthAid with support from the Latter-Day Saints Charities, we will forever be grateful for their generous donation to this school.