Sustainable Water, Sanitation, and Hygiene (sWASH II)
GrowthAid was lucky to receive a grant from Latter-day saints' charities to scale up sustainable water, sanitation, and hygiene promotion project for the prevention and management of NTDs in the Eastern Region of Ghana in 2020 project for the prevention and management of NTDs in Eastern Region of Ghana. Over 54,600 poor and marginalized people living in 15 rural communities in Lower Manya Krobo Municipality, Yilo Krobo Municipal Assembly, and Upper Manya Krobo District Assembly in Eastern Region benefited from the project.
STAKEHOLDER ENGAGEMENT:
Effective stakeholder engagement is critical for the successful implementation of our projects. For sWASH II, GrowthAid signed an MoU with the Lower Manya, the Upper Manya, and Yilo Krobo Municipal Assemblies
CAPACITY BUILDING FOR SUSTAINABILITY:
At GrowthAid we value capacity building for sustainable development. As such, for sWASH 2 we trained and equipped Fifteen (15) gender-sensitive water, sanitation (WATSAN) committees, including local pump caretakers, with skills and knowledge on how to mobilize funds, resolve conflicts and keep records. Their roles and responsibilities include how to keep water facilities clean all the time. They were also trained to repair and maintain the hand pumps and given tools to carry out basic repairs and maintenance. To facilitate this, fifteen (15) Area Mechanics were identified and trained on how to dismantle and assemble water facilities to carry out routine maintenance and replacement of spare parts. They will be responsible for providing support to pump care attendants who will be responsible for basic repair works.
PROVISION OF SAFELY MANAGED SUSTAINABLE WATER SERVICES
As part of SWASH 2 project deliverables, GrowthAid provided better sustainable water services to the communities and institutions for the prevention and management of NTDs. Water services provided includes simple boreholes, mechanized boreholes, and Iron treatment plants.
SUCCESS STORIES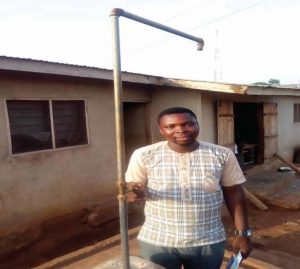 "Nsutapong community has resurrected again."
My name is Francis Mensah Opoku, I am thirty-five years of age and a resident of Nsutapong. I am the current Assembly member for Nsutapong Electoral Area under the Yilo Krobo Municipality of Eastern Region. The community had one borehole which breaks down for the past six years and access to safe source of water was difficult, we had to rely on streams and uncovered wells for water, which were unsustainable and unsafe for human consumption. Nurses' retention in the community clinic was difficulty because of the water crisis in this community. The maternity unit, during delivery, had no water which poses the midwife and the clients to sepsis infections. There was declined in skilled delivery and pregnant women resort to going to the traditional birth attendant for antenatal and postnatal care.
Out of nowhere, a nonprofit organization called GrowthAid came to our plight by rehabilitating our borehole near the clinic, educate us on acceptable sanitation and hygiene practices. I am glad that, Nsutapong has safe source of water, nurses are now accepting postings to our clinic. This has increased outpatient attendants at the clinic. Antenatal and Post- natal care has increased as mothers gladly bring their children to the health facility.
On my own behalf and on the behalf of Nsutapong community, I want to say a big thank you to GrowthAid and the donor for providing us with this water facilities and going further to help Nsuta- pong to become open defecation free.
My name is Tetteh Comfort, a farmer and native of Abobeng Yiti. My community was really suffering when it comes to water. Although we had a borehole which was constructed over 20 years, it was rusted. Water from this borehole really smelt bad. It also had a brownish color. In fact, when you cook with the water, it changes the color of the food. It was bad, but we had no other option. thankfully GrowthAid came to our rescue. They did not only change the rusted borehole but built an iron treatment plant. Now my family and community drink a clean and colorless water. We do not have to worry about the changes in the color of the food we prepare. I am grateful to the Latter-Day Saints Charities and GrowthAid for this great relief. God richly bless them.
"WATER AT LAST…"
I am Ruby Ayertey, a nurse at the Nyankomase CHPS. Residents in this community over the years have been struggling for clean water. They walk for long distance to fetch water from a stream. This same stream is used by the animals and the okada riders to wash their motors. At the health center, we harvest rainwater. During the dry season, we buy water form trucks and sometimes go to the stream to also fetch. This was really a challenge as you must spend long hours in boiling the water before you can drink. Out of nowhere, GrowthAid came to engage the community on providing the community with a borehole. Surprisingly, they went further ahead to provide us with a mechanized borehole. This water facility is situated right on the compound of the CHPS compound and serve the community. We are grateful to GrowthAid and their donors, Latter Day Saints Charities for this initiative. The people of Nyakomase can boost of clean water throughout the year. God bless GrowthAid and the donors and strengthen them as they continue to help humanity.
My name is Agnes Okhe, I am farmer and a native of Nsutapong Sokwenya. My community has been in dire need of clean water. We used to fetch water from a nearby stream. This stream is dirty and unclean. We had to boil it first before using it. During the dry season, we must walk long distance to a nearby community to get little water as our stream dries up. This situation was bad as you could over 2 hours to get water back your house. By God's grace, we recently had a new borehole constructed for my community. I was filled with so much joy. The long hours and distance spent in getting water was finally over. Fortunately for me, the borehole is situated very close to me. I have therefore decided to take care of it. Ever since its construction, I sweep there every morning. I am very happy. God bless GrowthAid and the donors.